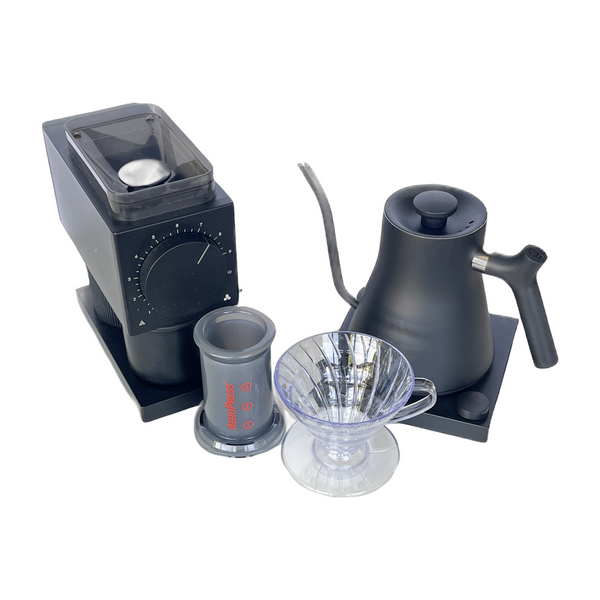 Coffee Brewing Set
Looking to level up your coffee game?  Mix and match your ideal set up here!  Add the kettle or grinder with your Aeropress or V60 purchase and we'll throw in a free 12oz bag of one of our coffees!
Choose to add a water kettle for precise pouring.  This is a must if you plan to brew pour-over coffees in a V60 or another pour-over brewer.  Specifically, you will receive a Fellow Stagg EKG Kettle (color is black).
Choose to add a grinder for peak freshness and flavor.  Grinding fresh is one of the simplest ways to elevate your coffee's flavor.  Specifically, you will receive a Fellow Ode Grinder Gen 2 (color is black).  This is one of the best home coffee grinders on the market.
When combining these items, you will receive discounts off the retail price!  Click any of the links above to order these products individually at full retail price.  
*While supplies last.  Because these are considered 'sales' items, there are no returns or refunds per our Refund Policy unless the product was damaged during shipping.  The product image shows all products available for purchase; however, you will not receive all items in the photo unless you choose all items.